Alamo Heights High School
Class of 1971
WWII Honor Roll
WWII Honor Roll Project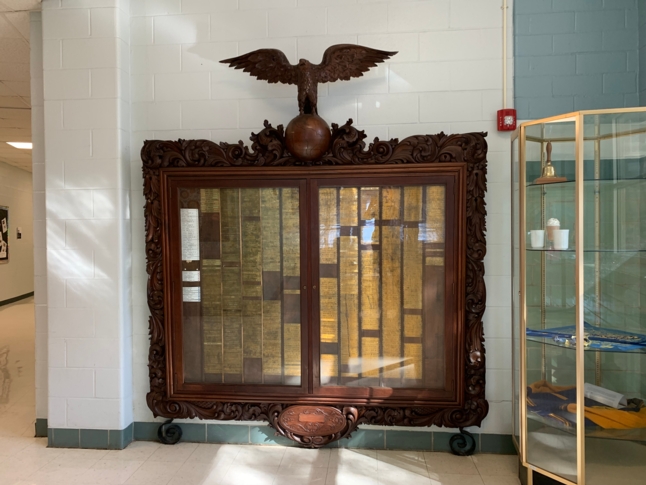 Class of 1971 Project
In 2001, as the Class of 1971 toured the AHHS campus, several members discussed the fact that the beautiful walnut WWII Honor Roll case was showing signs of age. Twenty years later, in discussions among several of our classmates, we realized that few really knew what this memorial represented.
The Class of 1971, being children of the Greatest Generation, felt that we should step forward to honor our parents, aunts, and uncles, neighbors who served their country during those perilous times.
Forty-one of the students honored, never returned home to their families, giving the ultimate sacrifice. Over 800 WWII Veterans, with links to Alamo Heights, are named in the case.
The Class of 1971 initiated this project to honor students of Alamo Heights School District, who served our nation during World War II, 1941-1945.

We invite graduates, students, and faculty of Alamo Heights to join us in researching the stories of the honor roll veterans.
Our goal is to not only identify those who never came home, but to identify the 800+ men and women who served; and to engage current AHHS Students to research the training, the battles, and the missions where these veterans served, and where some lost their lives.
So far, we have learned that the original memorial case was erected in 1945. According to the 1945 Olmos Yearbook, the HI-Y Club was responsible for maintaining the honor roll.
Annonymous Donors have come forward to underwrite the repair and refurbishment of this beautiful, hand-carved honor roll case.
In August 2022, The Windmill Woodworks, LLC, owners Jerry & Allison [Daniels] Sims, were engaged to repair & replace the broken wood carvings, and clean & oil the entire wood case. Allison is an AHHS 1973 graduate.
1971 AH graduate, Gary Gates, Gates Machine & Fabrication, Inc., offered to oversee the polishing of the tarnished brass name plates, a long-term project which will be ongoing over the coming months. One goal is to hold a "rededication" in 2025, 80 years after the end of WWII.
CLICK HERE to jump to LIST of NAMES
WE NEED YOUR HELP:
Please take time to read the 800+ names of the Veterans. We recognize fathers, uncles, and neighbors. Our former Administrator, Harry Orem, AH Class of '44, is listed.
Can you help us find information as to their participation in World War II?
Can you connect us with living family members of these Veterans?
We hope to learn the following about each Veteran
Their connection to AHISD and City of Alamo Heights
AHHS graduate? If so, what year?
TMI graduate?
What branch of the military? Rank? Where did they serve?
IDs of Squadrons, Infantry, Battleships, Fighter Groups, Training Missions, Bomb Groups, Divisions, Aircraft, etc.

HELPFUL RESOURCES: DD-214 service records, Draft Registration Card (found on Ancestry.com or FamilySearch.org); 1930, 1940, 1950 Census reports, findagrave.com ; 2021 Alamo Heights Alumni Directory (scroll down for 1925-1948 pages); search Fort Sam Houston National Cemetery
Would you be interested in joining our research team? Example: research names in the 1930s & 1940s AHHS Yearbooks (most are either in the AHHS Library or in the Admin Office of the high school.)
CLICK HERE TO VIEW LIST OF WWII VETERAN NAMES
---
How to get involved:
Gordon Stevenson, AHHS '71
Personal Cell 214-616-8723
Office: 972-450-6644
Toni Schmid Stevenson, AHHS '71
Cell 512-796-1123
Email: toni.schmid@gmail.com
www.ahhs71.org
---
1945 HI-Y Club Source: 1945 Olmos Yearbook
"The honor roll in the front hall was carefully compiled and tended by the Hi-Y this year.
In this way they have indeed paid tribute to our boys in the service of our country."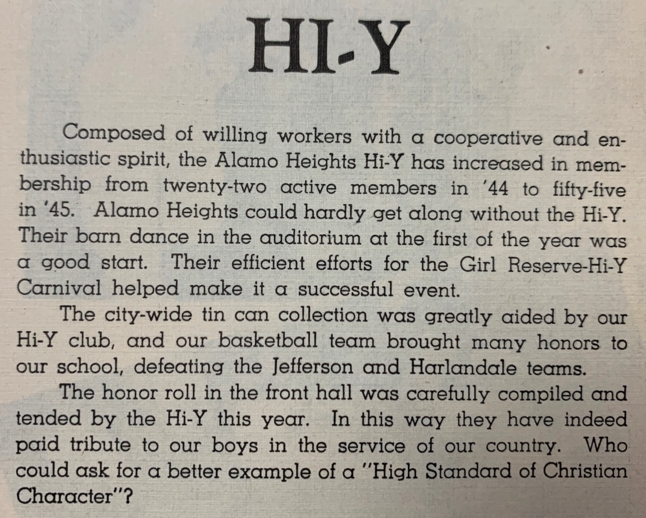 Mr. Edward LaGrone was Faculty Adviser for the HI-Y Club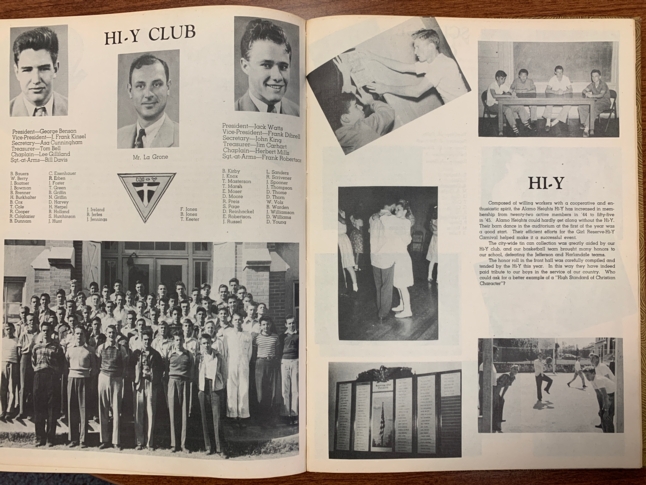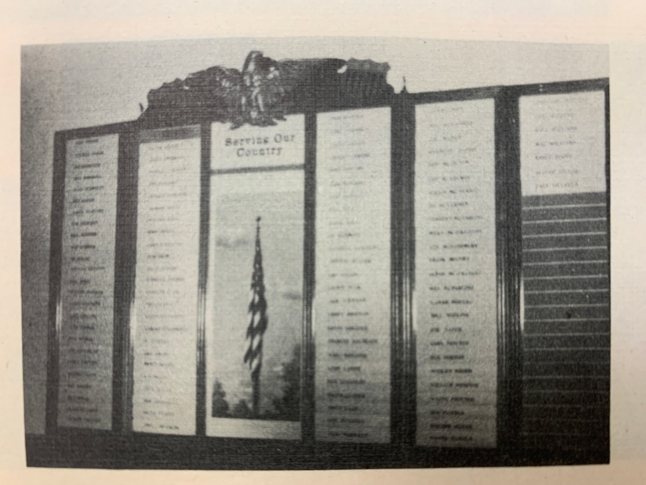 HONOR ROLL
** name not in original case, will be added

Died In Action
Albert, Louis
Arneson, Edwin P. Jr.
Beck, William Class of '35
Benore, Louis W.
Borgfeld, H. O. Jr.
Brinkmeyer, J. E. Jr
Busbee, William S. Jr.
Callan, Dick
Cardwell, James R
Clopton, Verne M. Jr.
Dixon, Wiley
Fuller, Sam G. Jr
Houston, Gordon E.
Johnson, Edward C
Johnson, Everett F.
Judmaier, Henry A. Jr.
Kinsel, Beaver A.
Lawhon, Zim E.
Pass, Laverne
Ragsdale, Charles A.
Rodney, George B. Jr.
Rodriguez, Louis
Sallee, John M. Jr.
Seng, Gene Jr. 1922-1943 Pvt, 2nd Marine Division, US Marine Corps,
Tarawa Cemetere & recovery Burial Info Sons of Liberty Museum
Sheridan, Dennis P. Jr. 1914-1945 Class of '30, Captain US Army, POW, KIA
Bataan Death March, 2 escapes, died in a Japanese Hell Ship explosion
Obituary/BIO Biography written by his sisters Dept of US Army
Stucke, Herbert C.
Taliaferro, Lucien H
Tingle, William L.
Vernon, G. C. George Claiborne, Class of '42, enlisted June 1942, PFC, 405th Infantry Regiment, 102nd Infantry Division, US Army, died in Netherlands 22 Nov 1944, HonorStates.org
Wyrick, Guy B.
Missing In Action
Cardwell, Norman
Fraser, William G. Jr.
Howard, Jack Bruce
Tappen, Ben C.
Tappan, J Harry Jr.
Died While In Service
Berry, K.L. Sr.
Binks, Gerald D
Brinkmeyer, J E Sr.
Gonzales, Omar Class of '34
Gotke, Wayne
Henderson, James
Lerner, Morris L.
ALPHABETICAL by Last Name
VICTOR ABADIE
HARRY ADAMS
WYNNE ADAMS
ROAN AICKLEN
ED ALDRIDGE
HENRY BURRALL ANDERSON
JOE ANDERSON
CHARLES ARMBRUST
JOHN ARNETT
ED ARNESON
DON ASHBROOK
TERRY AVERY
HAROLD BACKUS
CLARENCE BAILEY
JOHN BAINES
JOHN L. BASKETT
RALPH BATEMAN
F. TYLER BATES
RICHARD C. BATTEE
F. WILLIAM BAUERS, JR
F. W. BAUERS, SR
HENRY A. BAUGHMAN
FRANK S. BAYDEN, Jr.
JAMES BEBINGER
JACK BEBINGER
SAMUEL C. BECHTEL
RALPH L. BECK
WILLIAM BECK Class of '35
CHARLES LEE BECKER Class of '37, Lt. Army Air Corps
PHILIP W. BECKLEY
GEORGE C. W. BELCHER
JOHN THOMAS BELL
WILLIAM F. BELL
WILLIAM F. BENNETT, JR.
WILLARD L. BENNING
LOUIS W. BENORE
ALBERT G. BENSON
GEORGE C. BENSON
CHARLES M. BERKEY
PAULA A. BERKEY
ROBERT A. BERMAN
K. L. BERRY, JR.
K. L. BERRY, SR.
THOMAS E. BERRY
ANTHONY BERUMEN
MIGUEL BERUMEN
MURRAY B. BETTS
GERALD D. BINKS
GEORGE BLAKEY
JOHN E. BLAKEY
CARROLL STERLING BLANCHARD
ROBERT P. BLANKENSMIP
E. JUDSON BLITCH
STEPHEN WILLIAM BLOUNT III
CHARLES L BOATNER, JR.
WILLIAM BOATRIGHT
JACK BOERNER
JAMES BOLLER
JOHN H. BOLLES
PATRICK M. BOOKER
ROBERT A. BOOKER
EUGENE BOGLE
W. W. BONDURANT. JR.
ALFRED G. BOOTH
WALTER B. BOOTH, JR
H. O. BORGFELD, JR.
ALEX S. BOURDON
GORDON P. BOWMAN
JOSEPHUS A. BOWMAN
MARVIN S. BOWMAN, JR.
GEORGE R. BOYCE
CHARLES W. BOYD
WILLIAM H. BOYD
JESSE E. BOYLE
DAVID E. BRADFORD
FREDERICK E. BRAMLETTE Pilot Cadet, 1944-1945 Army Air Force Pilot Training School,
Gardner Field, Taft, CA
TIOMAS S. BRAND
FRANK M. BRAY
WILLIAM A. BRAY
ROY BREMER
EOWARD H. BRENDLER
GEORGE R. BRIDGMAN
J. E. BRINKMEYER, SR.
JOHN E. BRINKMEYER, JR.
WILLIAM HENRY BRINKMEYER
BILL BROUGH
A. BRUCE BROUGH, JR.
A. E. BROWN
BUSTER BROWN
CLINTON G. BROWN JR.
THOMAS C. BROWN
HARRY M. BROYLES
VAL BRUCE
OSCAR J. BRUNNER, JR
WALTER BRUNNEMAN
CARL A. BRYAN
GEORGE R BRYAN
FLOYD H. BUCH
JAMES B. BUCK
EDWARD L. BULLOCK, III
RICHARD F. BULLOCK
HARRY C. BURKHALTER
EDWIN K. BURRITT
WILLIAM H. BURNS
JOHN K. BURR
JAMES B. BURWELL
WILLIAM S. BUSBEE, JR.
ARTHUR P. BUZZINI
ROLAND CALDWELL
DICK CALLAN
ROBERT N. CAMPBELL, JR.
JAMES R. CARDWELL
NORMAN CARDWELL
PEGGY CARDWELL
A. E. CARMICHAEL
RICHARD P. CARR
RICHARD W. CARR, JR.
PHILIP S. CARRINGTON
EUGENE G. CARRINGTON
DOROTHY JANE CARTER
FRANCIS FITZHUGH CARTER
ROY A CARTER
ROY A. CARTER, JR.
CHARLES O. CARUTH
R. O. CATES
T.A. CATES, JR.
FREDERICK VICTOR CERMIN
JOE CHAPLES CHAPMAN
JOSEPH P. CHAPMAN
GORDON T. CHARLTON, JR.
GORDON T. CHARLTON, SR.
JAMES CHARLTON
MARY L. CHESNUTT
HERSCHEL N. CHILDERS
M. A CHILDERS, JR.
PAUL CHILDS
WHEATLY CHURCH
WILLIAM C. CHURCH, JR.
FRED G. CIMMERMAN, Jr.
CHARLES B. CLARK, Jr.
CLAYBOURNE F. CLARKE
DAVID G. CLARKE
JOHN L. CLEM, JR.
AUGUSTUS D. CLEMENS
ROBERT A. CLEUTER
KENNETH L. CLINE, JR.
VERNE M. CLOPTON, JR.
JAMES E. CLUTTER
JOHN R. CLUTTER
ELMER T. COATES
ORA J. COHEE
R. HOWARD COKER
GENE COLBERT
JOHN W. COLEMAN
E. W. COLGLAZIER
ROBERT W. COLGLAZIER, JR.
CHARLES J. COLLINS, JR.
A. F. CONSTABLE
E. RAYMOND COPPOCK, JR.
E. S. C. COPPOCK
W. D. CORNELISON, Jr.
EVANS W. CORN
LEAVITT CORNING, Jr.
ROBERT N. CORRIGAN
WALTER N. CORRIGAN
MALFORD COTHAM
JAMES H. D. COULTER
EDWARD W. COYLE
CHARLES Z. CRAIN. JR
S. C. CRATCH
R. J. CROCKETT
C. H. CROW
JOSEPH MILTON CROW
CHARLES CRUM
ARTHUR CUESTA
BENJAMIN PRANKIIN CULPEPPER, JR.
LESLIE T. CUSHING
CARREL DAKIN
HOWARD H. DAVENPORT.
RALPH STEPHEN DAVIS. JR
RAPIER DAWSON
KENNETH DENGEL
JAMES C. DENNIS
LOUIS C. DENNIS, JR.
JAMES F. DENSON
WILLIAM DEVINE
LESLIE DICK
CONRAD DICKERSON
DAVID B. DICKEY
FIELDING DICKSON
KEMPER DIEHL
BOB DIXON
WILEY DIXON
RICHARD W. DOUGLAS
JAMES L. DROUGHT
THOMAS DROUGHT
ALBERT J. DRUCE
HAROLD M. DRUCE, JR
ROBERT W. DRUCE
ERIS DuBOSE
GUNTER DUCKWORTH
HOWARD DUCKWORTH
EDWARD DUERR
CHARLES W. DUKE
DELMAR H. DUNTON
RALPH H. DURKEE
DAVID A. DURKOP
CHARLES DWYER, JR
JOHN N. EDDINS
WILLIAM N. EDDINS, JR.
ROBERT EICHENROHT
RALPH ELLSWORTH
CLARENCE E. EPP
EDWARD W. EVERETT
SUTHERLAND C. FANT
ALBERT FARRIS
ED FARRIS
GEORGE FARRIS
ROBERT E. FAWCETT
MAX N. FEDER
STEPHEN FEY
ARTHUR F. FISHER
WILLIAM P. FITCH, JR.
ALBERT VINCENT FITZGERALD, JR.
THOMAS FREDRICK FITZGERALD
O. C. FITZHENRY
MELVIN L. FISER
PAUL A. FLOWERS
ROY E FORSON, JR.
JOHN C. FOSTER
J. B. FOOTE
J. D. FRALEY, JR.
EDWARD FRANKSTONE
BRUCE FRASER
HERBEMONT F. FRASER
WILLIAM G. FRASER, JR.
EDWARD J FRAZER, JR.
JOSEPH K. FRAZER
OTTO A. FRISCHNUTH, JR.
WALTER C. FREEMAN, JR.
JACK FROST
FREDERIC L. FULLER
SAM G FULLER, Jr
RICHARD FURMAN
FRANK J GALLAWAY, JR.
JACK R. GAMBLE
LON D. GAMBLE, JR
RYERSON D GATES
CHARLES E. GARRETT
G.L. GARRETT
THOMAS S. GARRETT, Jr.
LEROY GATLIN
JACK W. GERBER
J.W. GERLICH
JOHN F. GERRITY, JR.
JOHN E. GERRITY, SR.
PEYTON GIBBS
DOROTHY GIBLER
JOHN O. GIBSON, JR
DONALD C. GLASS
GUY C. GLASSFORD
PELHAM GLASSFORD
JAMES ALLAN GILL
** LUKIN T GILLILAND Class of '44, US Navy
KERMIT F. GOMBERT
ROLAND GOHMERT Class of '37
JOSEPH A. GOLDEN
ABEL GONZALES Class of 37
HORACE GONZALEZ Class of '35
OMAR GONZALES Class of '34
GLENN COODWIN
** CHARLES W GORDON, III, Class of '44, Corpsman, US Navy
HAROLD M. GORDON
ROBERT F. GOSSETT
WAYNE GOTKE
HERBERT B. GREENE, JR
ROBERT S. GREENE
E. HOYLE GRAHAM
KARL GRANBERG
CLIFFORD A. GRAY
B. A. GREATHOUSE JR.
THOMAS H. GREENWELL
MARGARET GREER
F. DEEL GRIFFIN
CARL F. GROOS, JR.Class of '40
ERNEST M. GROOS, JR. Class of '42, US Navy, Ensign, Fourth Officer, Navigator, LCI (Landing Craft-Infantry) in the South Pacific. Memory from his son, Ernest III (class of '71): LINK to the website that has the best information about the small (less than 160 foot), flat-bottomed ship my father served on during WWII in the South Pacific. He was a 20-year-old ensign on this LCI (Landing Craft-Infantry) that was converted to a mortar ship, LCI(M). Being flat-bottomed, it was able to sail in over the coral reefs that surrounded most of the South Pacific Islands they were attacking. From close-in, they would fire in explosive mortar rounds at targets radioed to them via air reconnaissance. One of his duties was being the navigator, which often had to be done zig-zag without radio signals in order to avoid Japanese submarines. At night, this required navigation by the stars, both of the northern and southern hemispheres. I still wonder at the mettle of a 21-year-old kid with that kind of responsibility and burden, but that pretty much describes all of those that served in WWII. After the Japanese surrender, he was assigned as the navigator on a Destroyer, which seemed like a battleship compared to the boat they sailed (sometimes surfed during huge ocean storms) across the Pacific. ... In the third picture on the web page, my dad is the skinny kid on the left.

JOHN F. GROSSMAN, JR.Class of '38
WILBUR G. GUNN
CLIFFORD L. HAGY
VIRGIL O. HAGY
J. CROSWELL HALL, JR.
JOHN P. HALL
ROBERT L. HALL
EDWARD H. HARVEY
GEORGE G. HARVEY
EDGAR O. HASCHKE, JR.
GARRISON G. HARWELL
FLOYD A. HATFIELD
WAME J. HALLMARK
GUY S. HALTER
RICHARD C. HALTER
EDWARD L. HAMMOND
WENDELL HANABURY
HENRY F. HANZ
EDGAR CHALMERS HARDING
EARL W. HARDING
ROBERT RUGELY HARDING
VICTOR H. HARDING
NORTON B. HARGIS
FRANK R. HARMER, JR.
WILLIAM H. HARMER
JAMES E. HARPER, JR.
JOHN W. HARRINGTON
JOSEPH P. HART
A. W. HARTMAN
WM. HUARD HARGIS
JACK HASCHKE, JR.
RAYMOND HATFIELD
ROLAND H. HAUN
BILLY HAUSMAN
BOBBY HAUSSER
EARLE HAWLEY, JR.
EDWARD HEARN
HOWARD HEARN
LEO C. HEARN
O. H. HEGEMANN
JAMES HENDERSON
WALTER A. HENSHAW, JR.
HOWARD HENSON, JR.
EDWARD H. HERPEL
JOHN HINTON HEIMAN
TERRY HIGHT, JR.
HILBERT F. HILGERS
PHIL N. HILL
O. C. HIMES
THOMAS HINGLE
JAMES A. HIRSHFIELD
M. F. HITZFELD
HILBERT F. HILGERS
LOUISE HOBBS
EDDIE HOFF
ROBERT HOFF
STUART S. HOFF
FRED W. HOFSTETTER
CHARLES A. HOLADAY
LEO C. HOLBROOK
MERLE HOLDER
NORMAN L. HOLDER
DAN M. HOLLINGSWORTH
TOM C. HOLLERON
JOHN HOLMGREEN
JACK HOLT
GILES N. HOOVER
ODELL HOPPER
FRANK P. HOPWOOD
WILMAR HORN
CHARLES L. HOUSTON, Jr.
GORDON E. HOUSTON
HOWARD F. HOUSTON
JACK BRUCE HOWARD
ROSS HOWARD
D. D. HOWE
EDWARD HOWELL
LAURIE M. HUCK
LAURIE M. HUCK, JR.
ROBERT HUEDEPOHL
ALFRED HUGHES
ARTHUR HUGHES
LLOYD D. HUFF
ROBERT Z. HURT
JACK L. HUSSUNG
STANLEY HUTCHINS
GEORGE HOWELL
H L. INGERSOLL
BILL IRVIN
GUY W. JACKSON
NEWTON W JACKSON
LEROY H. JAKEMAN
JOE JEFFERDS
WILLIAM A. JEFFERS
WALTER JESSEE
GLOVER JOHNS
DONALO G. JOHNSON
EDWARD C. JOHNSON
EVERETT F. JOHNSON
JAMES E. JOHNSON
WILLIAM F. JOHNSON
JOHN C. JOHNSTON
JOHN H. JOHNSTON
RICHARD N. JOHNSTON
EDWIN BROOK JONES
GARLAND JONES
JAMES JONES
REGINALD JONES
ROSS DAVIS JONES
ROYCE JONES
JAMES J. JORDAN, JR.
JACK JUDMAIER
HENRY A. JUDMAIER, Jr.
JACK JUDSON
JACK JUDSON, JR
MALCOLM CAMPBELL JUDSON
CHARLES F. KALTEYER
DONALD KALTEYER
WALTER W. KALTEYER. JR.
STANLEY KARGER
STANLEY H. KAROTKIN
HOMER C. KEETER
RICHARD KEIR
ROBERT KEIR
JOHN F. KELLEHER
RAYMOND KELLER, JR.
STEVENS KELLER
ROBERT E. KELLY
D. L. KEMPER
CHARLES W. KENDRICK
FRANCIS J. KERFORD
ERNEST KERR
JAMES KERR
HOWARD C. KEY
CHESTER B. KILPATRICK, JR.
RICHARD KING
BEAVER A. KINSEL b. 1922
JOHN L. KIRBY
FREDERICK T. KIRKHAM. JR
JACK B. KIRKLAND
H. KIRSNER
JOHN D. KIVLIN
FREDERICK H. KLIEFORTH
ROBERT H. KLOSSNER
ROY O. KLOSSNER
LLOYD A. KNEUPER
VAIL QUINTIN KOECKER
CHARLES J. KOERTH, JR.
JOHN R. KOMOROSKI
WILLIAM A. KRATZ
FERDINAND KRAUSE
JOHN H. KRUEGER Class of '37
MAX KRUEGER b1917
ROLAND C. KUPPER
W. J. LACKEY, JR.
HOYT LACY
LEON C. LAMPE, JR.
RAYMOND G. LANDGRAF
LEONARD O. LANE, JR.
ZIM E. LAWHON
ZIM E. LAWHON, JR.
DOUGLAS N. LAWLEY
EVERETT LAWLEY
BRUCE LAWRENCE
RICHARD L. LAWRENCE, JR.
RAY LEEMAN
RAY W. LEEMAN, JR.
CORNELIUS F. LEHMANN
ALEX LERNER
MORRIS L. LERNER
DONALD J. LIGON
HARRISON SEACORD LILLY
WALTER HARRISON LILLY
BRANCH C. LIPSCOMB, JR.
C. F. LITTLE
WILLIAM LOCKETT
R. J. LOESSBERG
J. T. LOGAN
FRANK H. LONG, JR.
MILTON W. LONG
T. RHODES LONGMIRE
JACKSON B. LOVE
BART G. LUCAS
SAMUEL J. LUCCHESE
RUPERT W. LUNDGREN
FRANK J. LUTHER, JR.
JOHN J. LUTHER
ADRIAN W. McANNENY
JAMES B. McCALLUM
JENNINGS D. McCALLUM
ROY McCLANAHAN
BILLY McCOLLOUGH
CLYDE C. McCOLLOUGH
SHARPE MCCULLOUGH
ERNEST T. McCOUN, JR.
JAMES CLAY McCOY
MALCOLM R. McDANIEL
WILLIAM McDANIEL
THOMAS J. McDONALD, Jr.
GAYLE W. McFADDEN
HERBERT W. McFARLING
THOMAS I. McFARLING
WILLIAM A. McFARLING, JR.
ALEXANDER J. McGOWAN, JR.
J. DOUGLAS McGUIRE
GEORGE CALVERT McJILTON, JR
JOHN McKEE
JAMES F McKINLEY, JR.
RUSSELL M. McKINNEY
JACK McLEOD
EDWARD McLERNON
GEORGE McLERNON
CLEMENTS MEMULLEN
FRANK McMULLEN
WILLIS McMURRAY
JAMES S. McNAMARA Class of '34
DON D. McNAY
BILLY MAGAVERN
MASON MAGILL
A DALTON MAGRUDER
JACK MALLEPELL
CLARENCE MANGHAM
JOHN C. MAPLE
FLOYD C. MARSHALL
LOUIS E. MARSHALL
J. BURRISS MARTIN
JOSEPH MASSERO
EDWARD MASSEY
J. R. MASSEY
RAYMOND MASSEY
GEORGE A. MATTESON JR.
JOHN P. MATTFELDT
T. STEWART MATTHEWS
ARTHUR L. MATYEAR
ALBERT T. MAY
ROBERT L. MAYFIELD
ROBERT T. MELLARD
CARL S. MENGER
ERICH MENGER, JR.
ERICH R. MENGER, JR.
JOHN M. MENGER
NORMAN MENGER
RICHARD W. MENGER
ROBERT W. MENGER, Jr.
STEVE G. MENGER
R. H. MERCER
CHESTER MEYER
GEORGE MEYER
JAMES JOSEPH MEYERS
ARTHUR M. MICHAEL, JR.
FRANK MILLER
JOHN E. MILLER
GEORGE W. MITCHELL, JR.
ROBERT B. MITCHELL
WILFORD R. MOBLEY, JR
GEORGE MONKHOUSE
REX MONTGOMERY
ERNEST C. MOONEY
FRANK E. MOONEY
PAUL F. MOONEY
GEORGE MOELLER
EUGENE D. MOORE
JERRY MOORE
S. FOSTER MOORE
SAMUEL F. MOORE, Jr.
WILLIAM W. MOORE
HAROLD C. MOREAU
LAMAR J MOREAU, Jr.
JOE MORENO
LUCIAN L. MORRISON
CLIVE P. MUELLER
FRED M. MUELLER, Jr.
LeROY MUELLER
ROY M. MUELLER
SAMUEL McR. MUELLER
EDWARD D. MUIR
ALFRED MUMME
JAMES H. MURRAY
JOHN G. MURRAY
ROBERT R. MURRAY
W. O. MURRAY, JR.
JOE P. MYERS
ARTHUR NAGEL
JACOB L. NAGEL
HOLLIS K. NALL
S. H. NEEDHAM, JR.
RAY NEUMANN
ALBERT R. NEWTON
CARL NEWTON
ROY E. NICKSON
TOMMY NICHOLSON
JOHN NIEDER
OTTO C. NIEDER
OTTO H. NIEDER
RHEA S. NIXON, JR.
C. W. NOBILING, JR.
A. W. (DUB) NORTON
HUARD NORTON
JIM NORTON
MARSHALL NORTON
J. C. O'BRIEN
EARL T. O'DELL
WESLEY W. OGDEN
GEORGE W. OGE, JR.
SLATER W. O'HARE
FREDERICK OPPENHEIMER
JESSE H. OPPENHEIMER
HARRY B. OREM Class of 1944, Y2 US Navy; served on the USS Maddox, USS Spangler and the USS Mansfield; US Navy Reserves until 1986. Teacher & Administrator at AHISD 1953-1994. Obituary
MERRITT D. ORR
DORIS E. PAGE
ELTON T. PAGE, JR.
GUS R. PAPE
RAYMOND F. PARKER
WILLIAM B. PARSONS
LAVERNE PASS
FREDERICK K. PEARMAN
GWENDOLYN PEATLING
WILLIAM H. PEEL
JAMES PENDERGRAST
G. WILLIAM PERRIN
JACK A. PETER
LEWIS S. PETER, JR.
ROBERT E. PETER
NORMAN PETERSON
DUKE PHILLIPS
WENDELL PHILLIPS
WILLIAM G. PHIPPS
DONALD GEORGE PICKELS
WAYNE McVEIGH PICKELS, SR.
WAYNE McVEIGH PICKELS, JR.
WALTER J. PIEPER. JR.
JACK PIERCE
THOMAS D. PIERCE
H. J. PITRE
CHARLES W. PITTARD
JAMES C. PITTARD
JOHN A. PLUMBLEY
ROBERT J. PLUMBLEY
STEVE POGUE, JR.
EDWIN R. POLK
RUSSELL S. PONDER
CHARLES MAXWELL POST
FRANK G. PRASSEL
VICTOR BRASSEL, JR.
ALBERT M. PRCIN
WILLIAM PROCTOR
WAYNE PROCTOR
HAROLD J. PUNG
HAL PUTMAN
ADRIN RAGLAND
CHARLES A. RAGSDALE
GUY S. RAMBIE, JR.
WILLIAM RAMSDELL
BILLY RANDOLPH
JACK RANDOLPH
CHARLES O. RATLIFF, JR.
MAX E. REDBURN
WESLEY W. REED
FRED H. REICHERT
LOUIS REIF, JR.
ARTHUR F. REILLY
RALPH ED. REINER
RICHARD W. REINER
THOMAS A. REINER, Jr.
GILES REYNOLDS
JIMMY RHODES, JR.
GEORGE S. RICE
JOHN CLARKE ROBERTS, JR.
CHARLES ROBERTSON
TOMMY ROBERTSON
JOHN E. ROBINSON
GEORGE B. RODNEY, JR.
RICHARD S. RODNEY, II
JOE RODRIGUEZ
JUAN RODRIGUEZ
LOUIS RODRIGUEZ
JAMES H. ROGERS
STUART McC. ROHRE
WILLIAM ROTZLER, Jr.
J. W. H. ROUSE
JOHN A. ROWE
FREDA ROWLAND
DANEL A. RUSSELL, JR.
JAMES E. RYAN
JAMES E. RYAN, JR.
BILLY J. SADESKY
JAMES P. SADESKY
A H. SAEGERT
RALPH SAENZ
FRANCIS R. SALGE
JOHN M. SALLEE, JR.
THEODORE SANDAU
CLARENCE M. SARTAIN
LOUIS L. SAUR
ALBERT SCHIFFERS
RUSSELL SCHRAMM
LESTER R. SCHRIMSHER
FRANKLIN E. SCHROECK
RICHARD A. SCHROEDERS
JOE H. SCOTT
R. E. SCOTT
ERNEST SCRIVENER. JR.
JOHN E. SEALE
KURT SEIDEL
Seng, Gene Jr.
ROBERT B. SEWELL
MITCHELL T. SHAFER
CHARLES SHANAHAN
ALEXANDER S. SHARPTON, JR.
W. B. SHAUGHNESSY
VERNON R. SHAW. JR
GEORGE B. SHEEL
BEVERLY S. SHEFFIELD
WILLIAM K. SHELDON
ROBERT. SHELLMAN
LAWRENCE SHELLY
BERNARR H. SHELTON
WALDEN SHELTON
CLAIRE H. SHEPHERD
DENNIS PATRICK SHERIDAN, JR.
EDWARD HUEBER SHERIDAN
MARY LOUISE SHERIDAN
THOMAS JOSEPH SHERIDAN
EARL F. SHERMAN
HERBERT SIERK
FRED G. SILVEY, JR.
WILLIAM F SILVEY
GENE W. SISK
RAY G. SIVLEY
ROY E SIVLEY, JR.
RICHARD SKELTON
HARRY G. SKINNER
WILLIAM H. SKINNER
BILLY M. SLEDGE
HARRY E SMALLEY. SR
HARRY E. SMALLEY, JR
HARVEY P. SMITH. JR.
LEON B. SMITH
THOMAS D. SMITH, JR.
SAM SNELL
ADRAIN W. SNYDER
M. ALLEN SNYDER
BILL SOUTHARD
GEORGE R. SOMERVILLLE, JR.
FRED I. SPENCER JR
FRANCIS M. SPICER
E. B. SPILLER
EUGENE C. SPROWI
JACK W. STACKPOLE
ERNEST D. STAKES
ROY D. STANFIELD
HARRY V. STEEL
DAVID L. STEIN
MERLE L. STEIN
FRANK E. STEELE
VIRGIL S. STEELE
FREDRICK W. STEINBERG
FRANK H. STEPHENS, JR.
SIMON E. STERN
ALBERT STEVES, III
MARSHALL STEVES
WALTER STEVES, II
A. JAMES STOCKER
PETE R. STOVALL
** DAVID J STRAUS, II - TMI '42. US Marine Corp 2nd Lt, Pacific Theater Obit
FRED H. STRAYER, SR.
FRED H. STRAYER, JR.
GEORGE A. STREET
JACK B. STREET
JOSEPH G. STREET
FRED C. STRONG
RICHARD G. STRONG
FRANKLIN B. STUART
SCOTT G. STUBBS
HERBERT C. STUCKE
EDWARD B. STURKEN
PATRICK H. SWEARINGEN
EDWARD SWEENEY
EDWIN M. SYKES, JR.
WALTER S. SYMONDS, JR.
JAMES S. TALBOT
LUCIEN H. TALIAFERRO
RICHARO TALIAFERRO
BEN C. TAPPAN
J. HARRY TAPPAN, JR.
WILSON A. TAYLOE
ROY LEE TAYLOR
RICHARD G. TEAL
LORANE THEIS
NORMAN THEIS
ALEX R. THOMAS, JR.
E. PENSHAW THOMAS, JR.
ROBERT P. THOMAS, Jr.
SHELLY EMERSON THOMAS
WILLIAM ROBINSON THOMAS
ARHUR F. THOME
JAMIES THOMPSON
ROBERT H. THOMSON
JOHN J. THORNHILL
JAMES S. THORPE
CHARLES R. TIBBETS
THOMAS J. TIBBETS
BOB C. TIDWELL
WILLIAM TINGLE
PAUL E. TODD
JOHN W. TODD
ROLLO A. TODD
JACK E. TOLAR
HARRY E. TRAIL
ROYCE G. TRAUTH
WALLACE G. TRAUTH
IRA A. TRAVIS
SOLON TREAS
LEROY L. TRENTON
GEORGE W. TRIGGS
RICHARD H. TRIPPE, Jr.
ARMAND L. TRUEX
MARSHALL TRUEX
LEO TURNER, JR.
JAMES F. TWEEDY
JACK H. VANDER WEIDE
SAM W. VANDER WEIDE
JAMES O VAUGHAN
ROBERT A. VAUGHAN
ROSWELL F. VAUGHAN
G. C. VERNON
GEORGE VIDAURRI
COLEGATE VILLARET
MARY LOUSE VILLARET
PAUL G. VILLARET, III
GAINES VOIGT Class of '37
M. L. WADE
BURNS F. WAGGENER, JR.
ROBERT C. WAGGENER
DUDLEY R. WALKER, Jr.
FRANCIS R. WALSH
EDWARD G. WALSH, Jr.
JOSEPH EDWARD WALSH, JR.
THOMAS J. WALSH
LEON N. WALTHALL, Jr.
CLYDE WANTLAND, Jr.
NEWELL E. WATTS
LEROY WEILBACHER
MAX H. WEIR, JR. (correct spelling is WIER)
CHARLES J. WEISS, JR.
THEO F. WEISS
JAMES I. WELCH. JR.
NED M. WELLS
JOSEPH F. WESP
CARL F. WESTPHAL
HUGH H. WHARTON
TREVOR R. WHAYNE
HOWARD R. WHIPPLE
JAMES A. WHITE
RUSSELL C. WHITE
CLIFFORD K. WHITING
JOHN R. WHITTIER
ENIS WIEDING
JAMES M. WIGGS
HERMAN B. WILD
MAC WILSON WILLIAMS
WILL JAMES WILLIAMS
JAMES ARTHUR WILSON
JOHN L. WILSON, Jr.
H. OLIVER WINKENHOWER
J. SAMUEL WOLF
CARL N. WOOD
HERBERT A. WOOD
JOHN W. WORSHAM
GUSTAVE T. WORTHINGTON
GEORGE WRAY
GILBERT G. WRIGHT, Ill
GEORGE FREESE WROTEN
WILLIAM A. WURZBACH. JR.
GUY WYRICK
GUY B. WYRICK
NORRIS W. YATES, Jr.
ELLIOTT ZELLARS
JOHN T. ZELLARS
JOHN T. ZELLARS, Jr.
EARLE S. ZUCHT
End
below are pages from 2021 AHHS Alumn Directory