Alamo Heights High School
Class of 1971
In Memoriam
Roy Campbell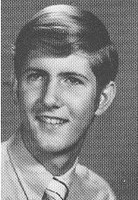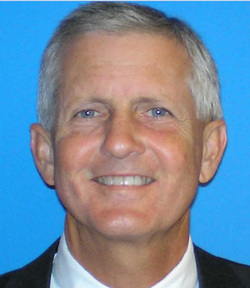 Roy Robert Campbell, III
Our Senior Class President
February 28, 1953 - October 27, 2012
Roy Robert Campbell III, born on February 28, 1953,
died peacefully on Saturday, October 27, 2012
with his family by his side.
Memorial Service
Thursday, Nov 1, 2012, 11:00 AM
Laurel Heights United Methodist Church
227 W. Woodlawn
Porter Loring ~ SA Express-News
Please send your memories, stories, photos to tschmid@austin.rr.com
Obituary
Roy Robert Campbell, III, age 59, died unexpectedly October 27, 2012, after a brief struggle with esophageal cancer. Roy was born February 28, 1953, to Roy and Marie Campbell of San Antonio. He graduated from Alamo Heights High School and then received his BBA from Southern Methodist University in Dallas, where he met the love of his life, Debbie Reiners Campbell. They were married in 1975, and after living and working in Dallas for six years, they moved to San Antonio in 1981, where Roy opened the branch office of Joyner Mortgage.

Roy spent his professional life in the financial world. At one point, he was the envy of all his friends and impressionable nephews when he co-owned PFL Industries, a railroad car refurbishing company. He joined Frost Bank in 1999 and was recently promoted to Senior Vice President of Wealth Management.

Roy was a devoted member of Laurel Heights United Methodist Church, serving on many committees and as a senior high Sunday school teacher. He was also instrumental in developing the Laurel Heights Youth Center, which today mentors over 150 inner-city children. Roy was Chairman of the Board of Methodist Healthcare Ministries and later served as Board Chair of the Methodist Healthcare System. He was an active member of the Texas Cavaliers, the Order of the Alamo, the San Antonio German, and the San Antonio Country Club, where he enjoyed his weekly golf partners and his "boot camp" workout buddies.

Roy will be remembered for his wit, his willingness to share his opinion, and his bow ties. He was deliberate and meticulous, but most of all, compassionate. For the past 22 years, Roy was a sober, active, proud participant in the Fellowship of Alcoholics Anonymous, living with the sure belief that the Twelve Steps are the most intentional pathway to God's grace. He mentored and touched the lives of countless people, and he practiced the principles of the program in all his affairs.

Roy was preceded in death by his father, Roy R. Campbell, Jr. He is survived by his loving wife of 37 years, Debbie; his mother, Marie; his sister, Elizabeth Yerxa and husband, Charles; his brothers, Nick and his wife, Genny, and Will and his wife, Stacy. He is also survived by numerous nieces and nephews, his aunt and uncle, many cousins, and loving friends and business associates.
at our 40 Year Reunion in 2011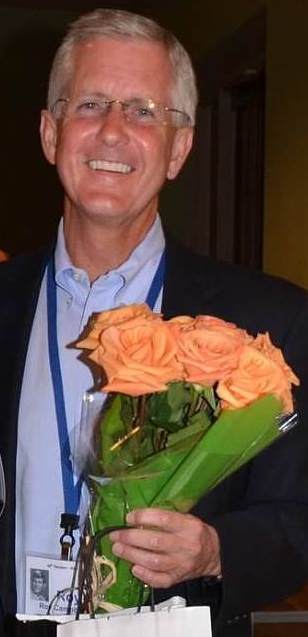 ~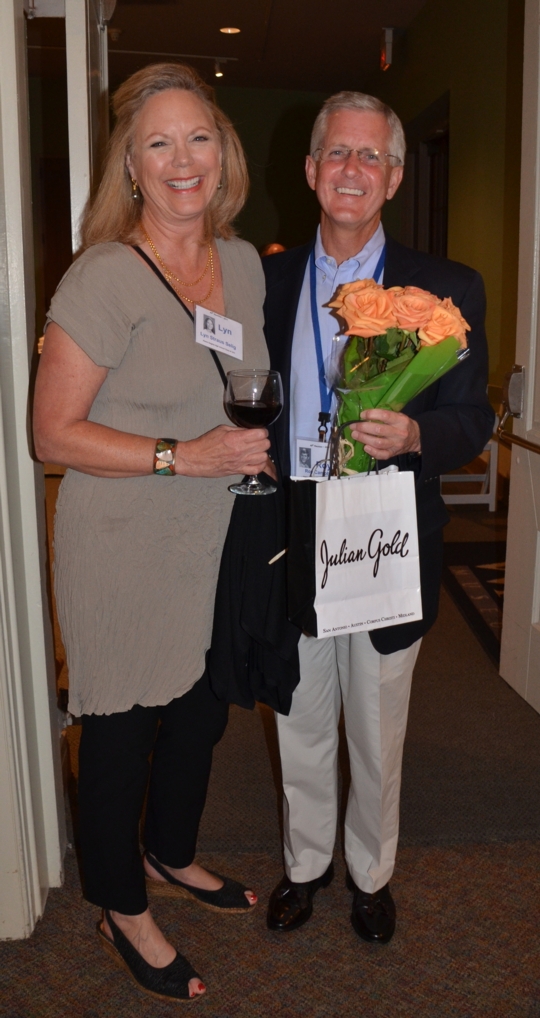 Remembering Roy ...
Love to all ~ Carolyn Creamer Mayo
~ Despite our frequent youthful shenanigans together and my nefarious influence on Roy during our adolescence, we graduated from high school the same day. Roy, standing tall at the head of the class, a shining beacon of reason and focus, while I was firmly rooted in the mediocrity of a C+ student looking for the next cheap thrill. The other day, as I drove by City Hall of Terrell Hills, I fondly recalled the day when Roy and I were picked up by the Terrell Hills police and brought to the station for soliciting donations door to door for the American Cancer Society. While our hearts were in the right place, our procrastination caused us to begin door knocking a couple of weeks after the official program date had terminated. A quick phone call to Col. Walter DeBill, sponsor of the Key Club, cleared things up and we were sent on our way. In retrospective, Terrell Hills is a prime place for those types of scams, but to Roy and me, it was just Zambrano Road.
~ To this day, I have a scar on my left cheek caused by Roy's head butt to mine in a Friday night car crash at the corner of Vanderhoeven and Oakview. Seat Belts? No such thing - as he wound up sitting in my lap and spotted by my blood. Roy was driving his dad's 1962 Ford Station wagon – pure iron – no fiberglass or aluminum. AM analog radio, no FM or Sirius. Must have weighed a ton. He ran a stop sign in our rush to break another law a couple of blocks down the road. Cuatro West, in his shiny new 442 was hauling down Oakview and T-Boned us. Good thing both cars were 60's vintage heft, since I was the only injury, cured by stitches at the E room and youthful recuperative resilience. There is still a broken concrete curb at the corner where we flew up into the yard and came to rest in a cloud of dust and smoke.
~ It's as if the dust and smoke of that night surround me again as I realize that I am the one who temporarily walks away from a crash with destiny. Thanks Roy, for being my friend.
For as long as grass grow, wind blow and sky is blue. ~ Mannti Cummins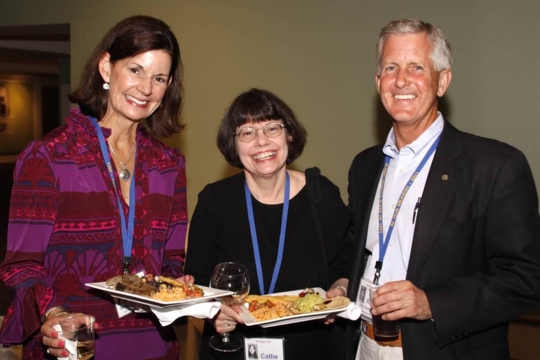 On Roy's recommendation, we honored Mr. Foerster and made a class donation to the Paul A. Foerster Mathematics Fund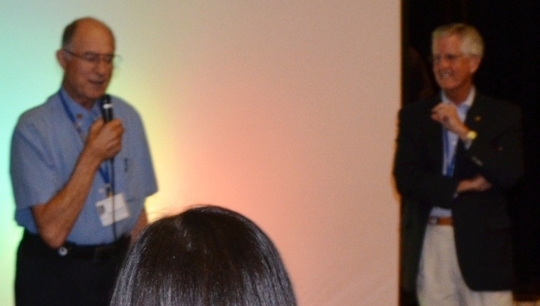 A Note from Roy, just before our 30th Reunion in 2001, reflecting on Edmund Eickenroht and Mac McSwain:
I wish I had a copy of our commencement address. I actually ripped it in half pulling it out from behind my gown on graduation night, because I was so nervous! Some bittersweet memories really --- I know we thought we were so radical and controversial and that speech was a forum for those really important issues, like hair length and dress codes! What a lawless bunch of rebels we were! I miss those days --- and I miss my friends --- my valedictorian was Edmund Eickenroht and my speech writer and soul mate was Mac McSwain --- They've been gone awhile now, but maybe they'll come join us, too (at the reunion) --- at least in spririt. ~ Roy Campbell, fall 2001
with Bubba Groos at our 10 Year Class Reunion in 1981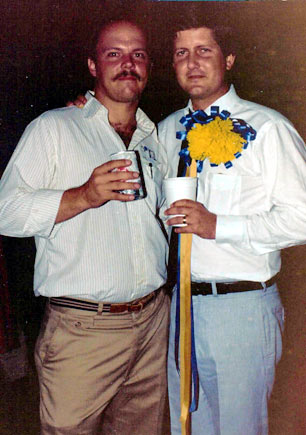 Roy's AHHS Accomplishments (from Olmos '71)
Class President 4; National Honor Society 4; Spanisih National Honor Society 2,3,4; Mu Alpha Theta 3,4; Key Cllub 2,3,4;
Class Vice President 3; Basketball 1,2,3,4; A Club 4; Muleskinners 3; Student Council 2,3,4; Honor Member 4; Leadership Class 4; Fellowship of Christian Athletes 4
Senior Class Officers, Roy Campbell, President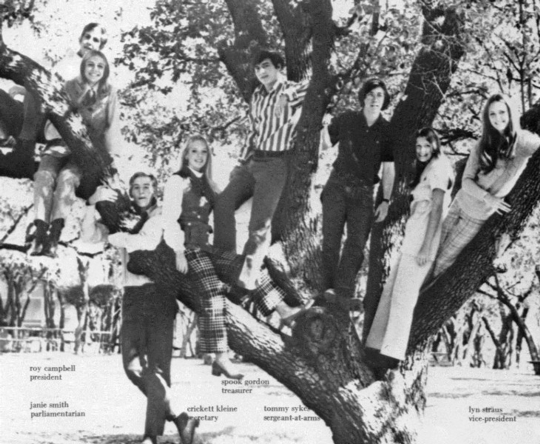 Presiding over Pep Rally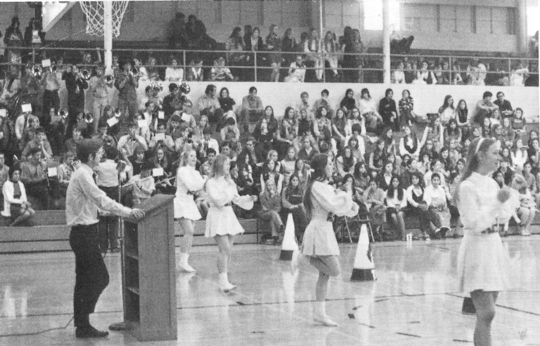 National Honor Society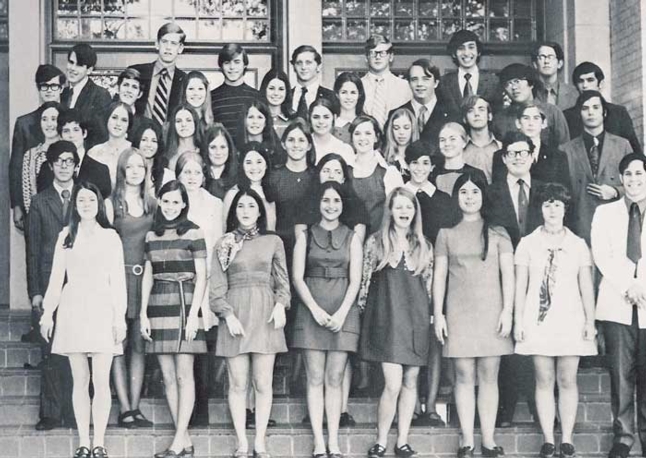 Sr Class Officers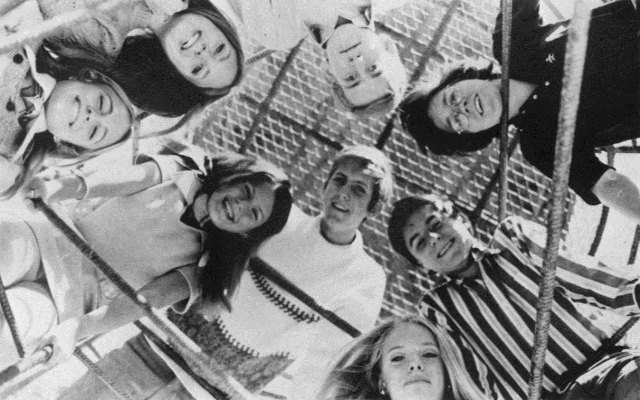 Senior Mule Stall Council, Vice President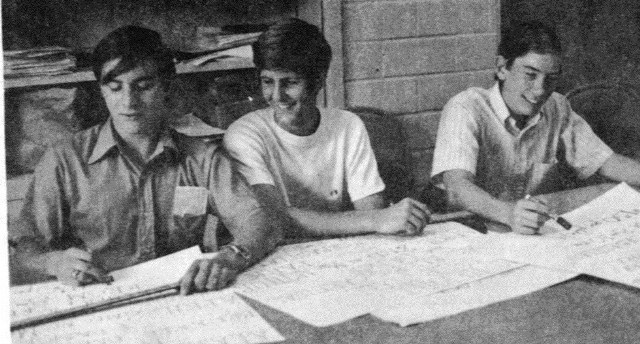 Mule Stall Club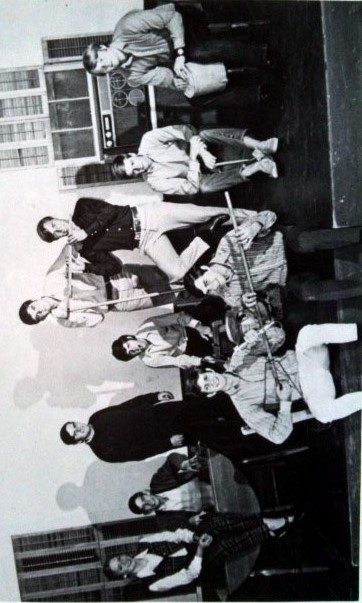 1971 Basketball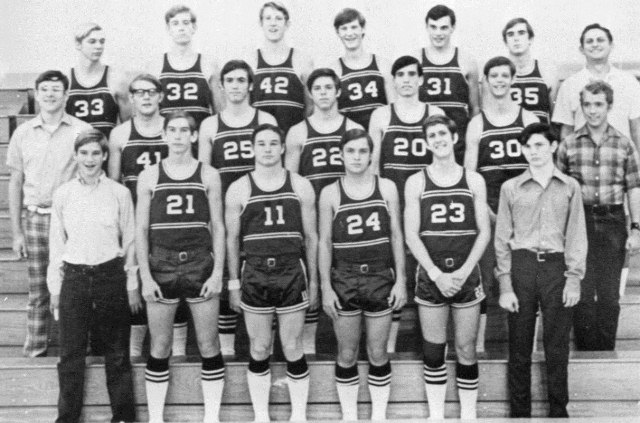 1970 Basketball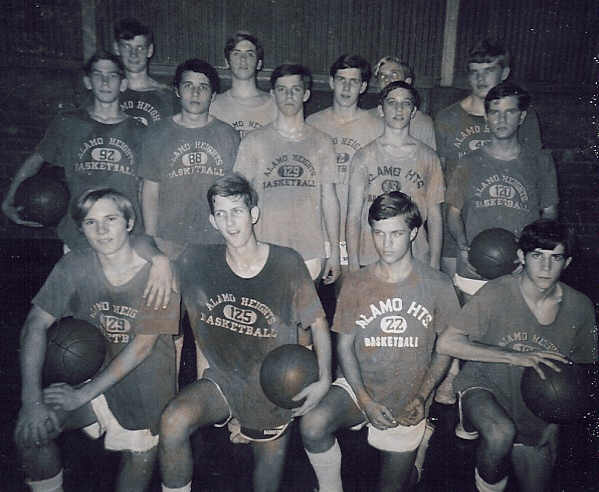 Campbell Lumber Co. Ad from our 1971 Olmos