Alamo Heights High School
Class of 1971
In Memoriam
Magda Canales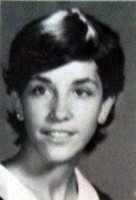 Maria Magdalena Canales
June 23, 1953 ~ August 2, 2013
Obituary
Maria Magdalena Canales long-time resident of San Antonio, Texas, passed away peacefully after a long illness surrounded by her family on August 2, 2013. Magda was born June 23, 1953 in Laredo, Texas. She graduated from Alamo Heights High School in 1971 and graduated Magna Cum Laude from Sophie Newcomb College in 1975, receiving a B.A. in French. Prior to her graduation, she spent a year in Paris studying French language and literature. Magda studied ballet with Vladimir Marek in San Antonio, during her junior and high school years and continued dancing in college both in New Orleans and Paris. She was a member of the ballet company in New Orleans in l975. Magda was a lover of literature, languages, and letters and studied French, German, and Spanish. Her correspondence from her time in France tells a more complete story of her life in Paris. Even in this electronic age, she loved to correspond with family and friends.
Magda was a member of the San Antonio Folk Dancers Group, Our Lady of Grace Church and Choir and of Christ Episcopal Church where she was involved in a number of ministries including the Prayer Shawl Ministry.
Magda was preceded in death by her father, Gregorio M. Canales, MD, and her brother Gregorio M. Canales Jr. of Denver, Colorado. Magda was loved and respected dearly by her family and friends and she will be greatly missed. Magda is survived by her mother, Amelia R. Canales, her sisters Francine Garza Vale, wife of Arnulfo Garza Vale, MD, Amelia Sondgeroth, wife of James Sondgeroth of Austin, Maria M. Helm of Flagstaff, Az., and Cristina M. Canales of San Antonio, Texas, her sister-in-law Josephine Canales of Denver and her brother Luis F. Canales and his wife Hillary H. Canales of Houston; nieces Niki Zoli and husband Guido, Andrea Maaseide and husband Steve, Angelica Fruin and husband Scott, Sonya Gil and husband Aaron, Monica Canales, Erica Sondgeroth, Rebecca Helm, and Katie Canales; and nephews Francisco (Pancho) Sondgeroth and wife Jordan, Tony Garza Vale, and Alex Helm; and many great nieces and nephews. She is also survived by numerous cousins and many friends.
Magda wanted to thank all her family, friends, and medical caretakers for their kindness and help during her illness.
Requiem services will be held Sunday, September 29, at 2 p.m. at Holy Trinity Anglican Church, located at 1307 Blanco Woods (just off Blanco inside 1604) at Faith Presbyterian Church. In lieu of flowers, donations may be made to the San Antonio Club House (saclubhouse.org) or NAMI of San Antonio, 510 Belknap Pl. San Antonio, 78212.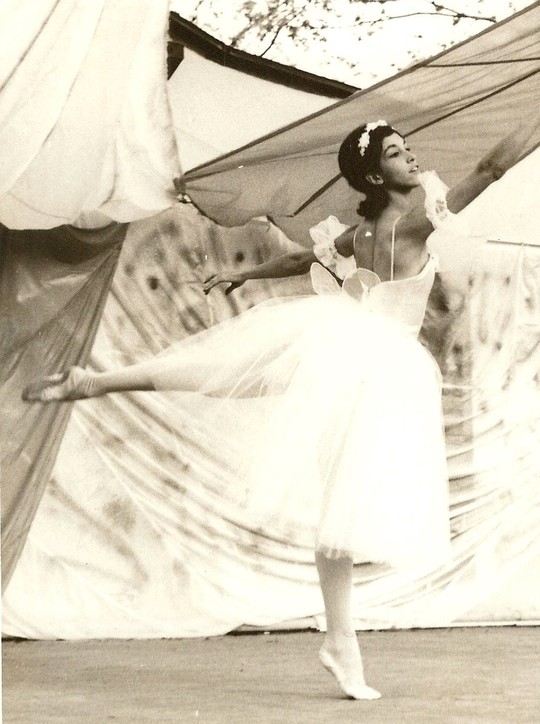 Magda studied ballet with Vladimir Marek
"A letter from Magda to Mapi"
Poem by Maria Helm (Magda's sister, "Mapi")
Don't cry too hard for me when I'm gone.
Let the memory of my Spirit lift up your spirits now.
Don't wallow in regret for the talks we didn't get to have
Remember the talks we did have that counted and smile.
For I do expect that you will miss me
My beautiful sensitive face
My silky brown hair
My smile
My laugh
My intelligence
My love of dance
My love of language
My ability to do the splits and jump in the air.
My beautiful body
My guidance
My patience
My protection
I loved practicing counting to five in French with you and
Walking on the beach and telling you the color of the water was
Cerulean, then explaining cerulean to you.
You were captivated by such a beautiful word.
Mother, Daddy, Francine, Amelia, Gregg, Luis, you, Cristina and me sitting around our dining room table.
Spending the night with Mama Amelia.
Playing in our big beautiful yard.
Playing the Piano.
Living in our big beautiful home.
Daddy working in the yard.
Listening to music in bed and talking before going to sleep at night.
St. Peters, Alamo Heights, Sophie Newcomb. My friends.
Reflections of what we shared while I was here with you -
Remember me for that and smile, because that is who I truly was! you know that!
I am finally, finally,
Home
Free of suffering
Do a cheer for me!
I love you,
We will be together again! Don't be afraid and Watch your spelling when you write! (Ha Ha)
Your beloved sister,
Magda
------
Remembering Magda ....
Josie Canales (sister-in-law)
Thank you, Magda, for calling and talking to me since Gregg's passing. It was not easy coping with the loneliness, but your comforting and supportive words helped. I hope mine helped you through your ordeals.
I love you and will always have fond memories of the fun times. Be at peace now. Love, Josie
Angelica Fruin (Magda's God child)
Words cannot express the pain and shock of losing Magda. I know she is no longer suffering and that she is smiling down from heaven but there is an aching I can't quite explain. She was a special soul that carried more than her share of challenges. I will always remember her gracefulness, ability to see life's beauty everywhere and kind, gentle heart. She touched my life by believing in me, passing no judgment of my choices and unconditionally loving me. I will miss her terribly.
Deborah Ford Femat - My dear friend, Maria Magdalena Canales
When Magda and her sister, Amelia, dropped-by my house during the 1969 Christmas break to invite me to accompany them to New Orleans to visit Sophie Newcomb College, I was completely surprised. I only knew Magda as a new student in my English class, but there she was, having made all the plans, offering a free hotel room, providing her sister as a chaperone, and sharing her exuberance about the possibility of our going to the same college together. Magda had thoughtfully remembered that I had attended the Newcomb recruiter's visit to Alamo Heights High School. I had forgotten that I had told Magda I was impressed by the presentation.
Magda had gone to see the Newcomb representative to get more details about their prestigious French program, to which she had already applied. I did not dare tell Magda that the life-altering information I had 'heard' that day was the fact that Newcomb girls could wear curlers and pajamas under their rain coats to attend class due to New Orleans' daily rains. Having naturally curly hair in a decade when board straight hair was an absolute necessity, I was quite concerned about weather that would cause my hair to frizz throughout my entire college career. However, the possibility that there existed a Heaven-on-Earth where public curlers were socially acceptable and clothing didn't seem to matter thoroughly intrigued me. Lurking in my subconscious was the recent memory of the conservative AHHS administration not agreeing that Edmund Eickenroht's daring and, I thought, quite clever wearing of pink plastic rollers to keep his 'too-long' hair above his collar met the intent of the 1969 dress code. How could I possibly have known then that so much ado about curlers and dress codes would ultimately dramatically expand my known Universe, as would Maria Magdalena Canales' enduring deep friendship?
While walking the streets of the New Orleans French Quarter that Christmas break, I learned of Magda's passion for all things beautiful, but particularly Dance and Music. After hearing the haunting penetrating jazz coming from Preservation Hall, we saw a dramatic poster advertising Flamenco dancer Teresa Torkanowsky, "fiery wife of the the conductor of the New Orleans Symphony." Magda and I agreed this was a good sign about New Orleans' culture. Magda swore she would take lessons from Madame Torkanowsky when she came to Newcomb. Teresa developed breast cancer and Magda did not get a chance to take those lessons. In lieu of that, Magda and I saved what little cash we had those days to take the long Airline Highway bus ride to Espana Restaurant to sit at a stage-side table so that we could be as close as possible to the exquisite, authentic Spanish Flamenco dancers and guitarists. Magda's endearing personality, her sparkling interest in other people, her knowledge of ballet, folk dance, and her fluent Spanish allowed us to be treated like family. We were served a special delicious bubbling Spanish pork stew when we let the owners know we were coming. We tried to get other Newcomb and Tulane students to go to the restaurant to help keep it in business. The closest we came was when three of my architecture friends, who swore they would go, came back saying they would never, ever, do Flamenco again. Turns out they been arrested for trying to 'free' the FLAMINGOES at Tulane's neighboring Audubon Zoo rather than going to Espana to see FLAMENCO... It was easy to get distracted in New Orleans.
Airline Highway is Louisiana Highway 61, yes, the very same Highway 61 that Bob Dylan wrote about. Magda adored Bob Dylan, as she did Proust, Nabokov, Joni Mitchell, the Allman Brothers, Satie, Tchaikowsky, Chopin, Prokofiev, and German folk dance music. Magda was a wonderful pianist, an excellent musician whose discerning ear allowed her to speak multiple languages without any accent. Besides the diverse Poetry and Music she championed, she also introduced me, and anyone else who would listen, to films of the classic ballets. To this day, I still feel lucky to have seen those films. Magda took ballet the entire time she attended Newcomb, she danced at Ballet Hysell, a local company, and she taught ballet at Newcomb after she graduated. She was loved by her students because she was creative, sensitive to their needs, and could so easily communicate and appreciate each individual. She was delicate, elegant, graceful, caring, and quietly torrid about her passions and those she loved.
After we graduated, Magda became one of my roommates. One crisp fall Sunday morning, Fernande, our half-Greek/half-Russian roommate from Birmingham, Alabama, Magda, and I decided to give life to the large room that was posing as our living room. We opened all five windows, turned up the Buckingham-Nicks (Lindsey Buckingham and Stevie Nicks, also from B'ham, later joined Fleetwood Mack), and proceeded to install 12" x 12" mirrors from floor to ceiling on one wall to reflect the multi-colored Art Deco glazed tile fireplace opposite. Fernande and I had doubts, but Magda spurred us on; she knew it would work. Her Tio Panchin had done something similar in San Antonio. We draped an Indian-print golden bedspread across the ceiling, and voila, a Spirit was born that made that year one of the most inspiring, dynamic, creative years of all our, and our friends', lives.
Magda appeared soft-spoken, but her affect was glorious. She shone, she brought beauty, light, and love to those around her with her kindness, warmth, and generosity. If Angels visit Earth, surely Maria Magdalena Canales must have been one of them.
I will dearly miss her. Deborah Ford Femat
Florence Bunton
When my family moved into our house on Grandview Place, Magda was our very first visitor. We were 12 years old.
Magda was brilliant.
Lynn Erben Gillaspy
She and I were really close friends through most of high school. She always made me laugh AND was so loved by everyone. If we sat in lunchroom to eat, everyone that passed by would say something to her and they were always met with a smile. She is with Angels now and I can just picture that smile! Blessings for strength to her family and friends.

1976 ~ Magda, Luis, and little sister Cristina on the road to their father's ranch in South Texas.

1975 Senior Yearbook Photo ~ Sophie Newcomb College, New Orleans
~

1973 ~ Sophie Newcomb College ~ 1975 ~ Annual Ballet

Magda at our kitchen table with Cy Bowers, Stan Fyvolent, and me visiting our house over the summer of 1974. Magda and I lived together the next year in New Orleans on Burdette St. ~ Deborah Ford Femat

1973 ~ Bon voyage! Magda leaving for France from San Antonio airport

1973 ~ Magda with her brother Luis Canales (AHHS Class of '73) at their father's ranch

1972 ~ Magda with Andy Holcomb at Lake Ponchartrain, New Orleans
Alamo Heights High School
Interests and Accomplishments as listed in our 1971 Olmos
Chaps 1, 2; Spurs 3; Student Council 1; Advisory President Council 2; Biology Club 1; Mule Stall Council, Publicity 2; San Souci French Club 1,2,3, President 4; Mu Alpha Theta 3, Sgt-at-Arms, 4; National Forensic League 1,2,3,4; Spanish National Honor Society 4; Service Club 3,4; National Honor Society 4

Sergeant-at-Arms, Mu Alpha Theta ~ 1970-1971 Senior Year - bottom row, 2nd from right

National Honor Society, Senior Year ~ 2nd row, 2nd from the right
~
Magda Canales, President, AHHS Sans Souci French Club, 1970-71

practicing with Deborah Ford, 1970

1968 ~ Magda loved going to the coast with the family. This is one of many times we were all together at Port A.