Alamo Heights High School
Class of 1971
In Memoriam
Pat Landrum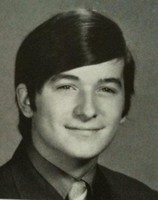 Patrick Tassos Landrum
November 13, 1953 - May 1, 2003
Obituary Patrick Tassos Landrum, 49, passed away unexpectedly May 1, 2003 while on business in St. Charles, MO. Patrick was born November 13, 1953 in San Antonio, TX to Hal Baldwin Landrum (deceased) and Helen Tassos Landrum, and attended Alamo Heights High School and the University of Texas at Austin; he was a lifelong member of St. Mark's Episcopal Church. Patrick was an outstanding figure in the automobile industry in both sales and technology for nearly 3 decades, as well as a connoisseur of things rare and exciting. His vitality and enthusiasm for living will be sorely missed. He is survived by his son, Benjamin Landrum of San Antonio; daughters Kathryn Landrum and Bailey Landrum, also of San Antonio; mother, Helen T. Landrum of San Antonio; sister and brother-in-law, Marguerite and Jerry Schutza of Houston, TX; brothers, Hal B. Landrum of San Antonio and Michael T. Landrum of Houston; nephew and niece, Cameron Schutza and Maggie Schutza, both of Houston; as well as aunts, uncles and numerous cousins and a wealth of friends. In addition to his father, Patrick was preceded in death by his grandparents, Gus D. and Marguerite S. Tassos, and John A. and Lucille B. Landrum, all of San Antonio.
A Memorial Service was held at 12:00 Noon on Saturday, May 10, 2003 at St. Mark's Episcopal Church, 315 East Pecan St., with Interment in the Church Columbarium. In lieu of flowers, please send donations to St. Mark's Episcopal Church. Also, the family would like to thank the staff of St. Joseph's Hospital in St. Charles, MO, particularly neurosurgeon Dr. Stanley Martin and ICU R.N. Robert Brown for their superb and compassionate care.

Pat remained steadfastly bright, witty, amusing, handsome and a very good friend to his friends.
Burial https://www.findagrave.com/memorial/81544581/patrick-tassos-landrum

please share your memories of pat
---
April 2003 ~ several of us had the pleasure of visiting with Pat recently at La Fonda, on April 19th at our Mini - Reunion - "Turnin' 50" celebration. He had missed the 30th reunion, so it was really good to see him and catch up. Afterwards, Pat, Rosa Huff, and Libby went to a party together afterward at CeCe Cheever's and then he went w/ Jamie & Elisabeth Baskin and some others to Cappycino's for drinks. At age 50, Pat seemed still to be the friendly, quietly mischievous boy we'd known in school; he still possessed his handsome good looks, and he seemed successful in his dent lifting business, and he was very sad about the recent loss of his lady love to cancer, but content in his life. We are heartened that we had the opportunity to spend this special evening with him. He'll be missed by many.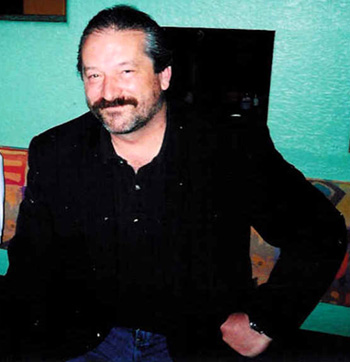 April 2003 at our "turnin' 50" gathering, La Fonda Alamo Heights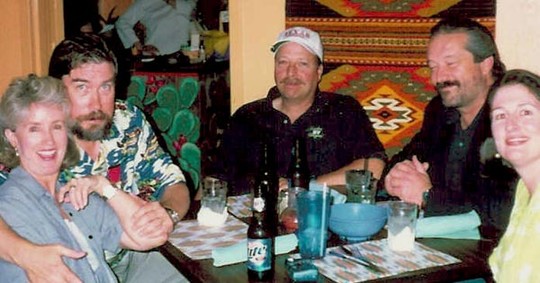 A special evening at La Fonda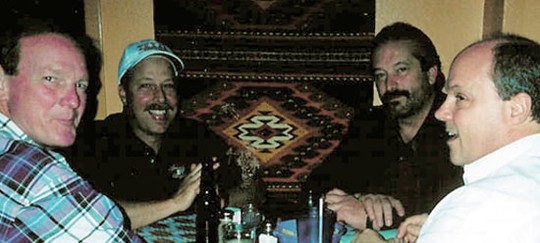 with James Foster, Jimmy O'Brien & Bubba Groos
---
AHHS Activities
Varsity Track; Treasurer, Fencing Club; Advisory President's Council
---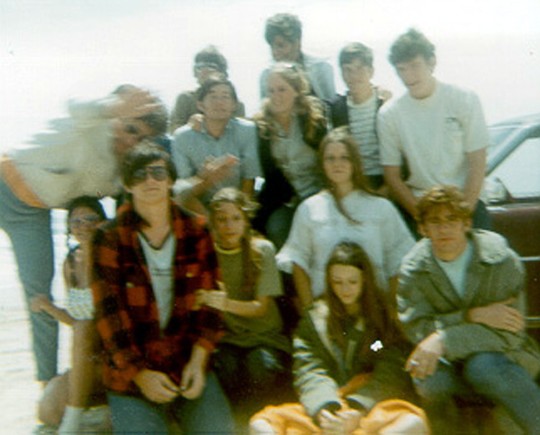 1971 Spring Break ~ Port A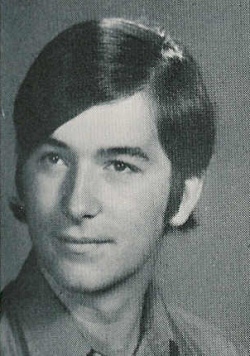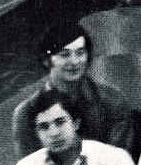 Advisory President's Council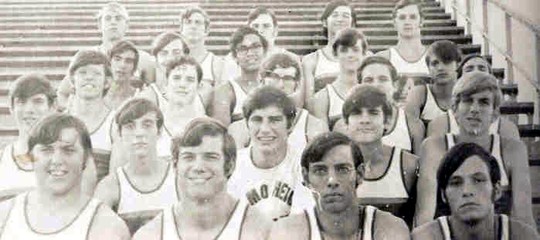 1971 Varsity Track Team
---
Pat Landrum was warm, friendly, funny, and cheerful. I had the privilege to know him. He will be missed ~ Tom Jackson
---
Pat Landrum went to St. Mark's church along with Boo Boo Jockusch, Brad Miller, Lilly Simpson and me. By high school, we would attend "big church service" and then, instead of going to Sunday school, we would walk across Travis Park and indulge in a wonderful breakfast at the St. Anthony hotel. This was much more fun than sitting in Sunday school! I'm so glad that I recently had the opportunity to visit with him at our "Turnin' 50" celebration at La Fonda. He spoke about his love who passed away in December and of how lucky he was to enjoy the work that he was doing. He seemed happy with himself and was still the handsome Pat that we all remember. What a sweetheart! He will be greatly missed ~ Libby Castleberry Brocard
---
What a GREAT guy !!!....Pat and I talked for a couple of hours at La Fonda that night...We planned to get together the next couple of weeks.....he will be greatly missed ~ Russ
---
. . . At our dinner two weeks ago, I got such a kick hearing Pat talk about being self employed. We both brought up the 1973 BTO song "Takin Care of Business." He relished being able to travel in his business of dent removal but he also said he enjoyed being at home. When people like Pat aren't here, the world is a lesser place ~ Eric
---
A pretty scary reminder of our mortality at just 50 years old. I didn't really know Pat well in High School, but I ran into him at Party Time in '09 the night before the get-together at La Fonda. I was walking along with my neighbor when she told me some guy was waving at me. I looked at him and didn't recognize him at first with the beard, but then he said "Hey, Jon, How Ya' Doin'", and I recognized him. I had seen him at Party Time in '09 the previous year, too, or maybe the year before that (the memory fades at this age). I enjoyed talking to him both times. He was very honest and open in talking about the triumphs and tragedies in his life. My neighbor, who had just met him, liked him so much she asked me if I knew his phone number. I saw him at La Fonda, too, but he left just after I got there, and I didn't get to talk to him again. I do remember the bone-crushing handshake he gave me though. It's a shame someone so vigorous should be taken at such a young age ~ Jon Gilhousen
---
I lost a very dear friend and he'll be missed ~ Jimbo