Alamo Heights High School
Class of 1971
In Memoriam
Blake Louis Steinberg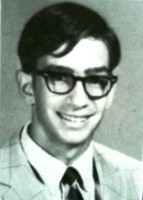 Blake Louis Steinberg
1953 - November 29, 2007
Freelance Writer
Austin-American Statesman: Blake Louis Steinberg
STEINBERG, Blake Louis, 54, freelance writer, of Austin died Thursday. Services 1:30 p.m. Sunday, Temple Beth-El, San Antonio. Arrangements by Weed-Corley-Fish. Published in Austin American-Statesman on Dec. 1, 2007
Blake Louis Steinberg, born 1953, passed away on Thursday, November 29, 2007.
Most recently a resident of Austin, Mr. Steinberg was a versatile and multi-talented man who recently completed his first novel, Jihad: The Siege of Vienna. Fascinated by geo-politics and economics, he was also a humorist, and his wit and quick sense of humor permeated his writing and his conversation. A former editor of the Economist Newsletter and a text editor for Standard & Poor's in New York City, Blake was a native of San Antonio where he attended Alamo Heights schools, was confirmed at Temple Beth-El, received his Bachelor's degree at the University of Texas at Austin and his Master's from Boston University.
He is survived by his parents, Malcolm and Elizabeth Steinberg, his siblings Malcolm, Carolyn and Jonathan, his cousin Cynthia Cannon, and many other close members of the family. He will be sorely missed.
MEMORIAL SERVICE SUNDAY DECEMBER 2, 2007 1:30 P.M. TEMPLE BETH-EL OPPENHEIMER CHAPEL 211 BELKNAP Rabbi Samuel M. Stahl officiating. You are invited to sign the guestbook at www.porterloring.com Arrangements with Porter Loring Mortuary.
---
Remembering Blake
I was thinking the other day that I knew personally way too many people that died early. Blake Steinberg was a good fried at AHHS and we drove together to Big Bend for a geology class outing in his little MG . That was not the way to go on that loooong drive. I also knew guys in the upper AHHS classes that have passed. I guess I could have been one of them by now so I feel fortunate in that way. ~ Brad Miller, January 2011