Alamo Heights High School
Class of 1971
In Memoriam
Debbie Turner (Gregg)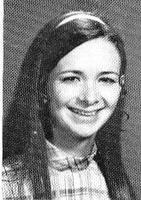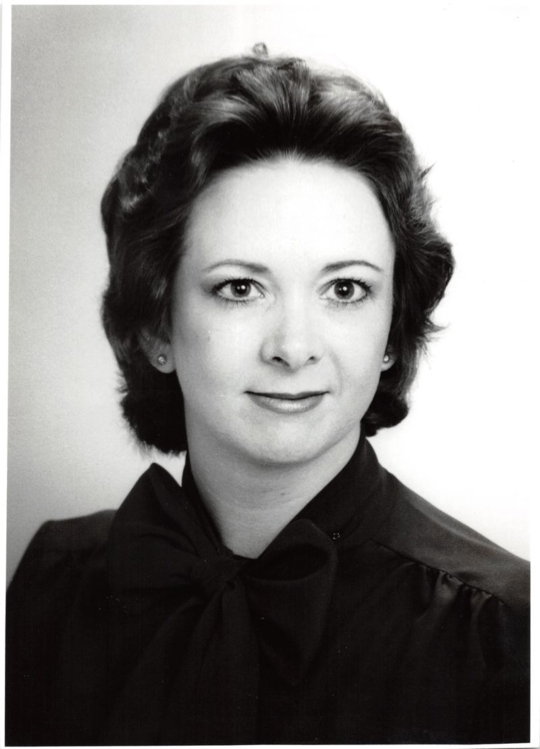 Debra Dale TURNER Gregg
May 8, 1953 - Nov 1, 2019
We learned of Debbie's passing from her dear friend, Carol CARLESTON Morgan
Obituary
Family and friends of Debra Dale Turner Gregg will celebrate her life on Friday, November 8, 2019, at 10am at the Porter Loring location at 1101 McCollough. Debra enjoyed her family with a steadfast, enduring love that made her the rock of our lives. Her intelligence, resourcefulness, and determination reasoned, presented and pushed every one of us to a better life. She was born to Ike and Charlotte Turner. She grew up in Alamo Heights, graduated with a B.S. from the University of Texas at Austin, and completed a MBA from Our Lady of the Lake University in San Antonio. She worked until retirement as a pharmacist, coming to specialize in drug interactions for psychiatric patients. In retirement she enjoyed traveling with her husband Cecil in their many RVs. She enjoyed her Scotties, good books, and fine, dark chocolate. She cross-stitched beautiful Christmas stockings for each member of the family and knitted us all scarves. She made the best buttermilk pies on earth. Debbie lived a life of capable, dependable compassion. She found a way to reach out to everyone in her life, whether with summer-time latch-hook projects with the growing children to insider chortles with the grown children. She knew to make oil-well cake for one child and chocolate cake with peppermint flavoring for another. In her blended family, she made a point of saying we miss you; we love you. She made sure everybody was the best they could be and held us all accountable. She prayed for each us, every day. Briefly stated, Debbie will be greatly missed by her mother Charlotte Sanders, her husband Cecil M. Gregg, her sister Susan Adams, her brother Thomas Turner, and her children Catey Koehler, Cecil M. Gregg III, Meg Dunn, Ginna Cates and Hayden Gregg.
More completely stated, Debbie will be missed by:
Thomas and Rebecca Turner, and their children Caitlin and Allison.
Catey and Michael Koehler, and their children Noah and Payton.
Cecil and Alicia Gregg, and their children Brennan James, Cecil "Mac" and Alexis Grace.
Hayden and Julie Gregg, and their children Teegan and Taylor,
Meg and Spencer Dunn, and their children Holly, Clint, Crystal, Madison, and Sloan; and grandchildren Braxton, Ashlynn, Brody, Aubrey and Danica.
Ginna and Paul Cates, and their children Douglas and Fiona, and grandchildren Hazel and Harmony
And by many friends.
CELEBRATION OF LIFE
FRIDAY, NOVEMBER 8, 2019
10:00 AM
PORTER LORING CHAPEL
THE Rev. Donna Strieb officiated
---
Debbie's AHHS interests and accomplishments
as listed in our senior class Olmos
Red Cross 1,2,3, President 4; F.T.A. 1; Slide Rule Club 1,2; Gym Club 3,4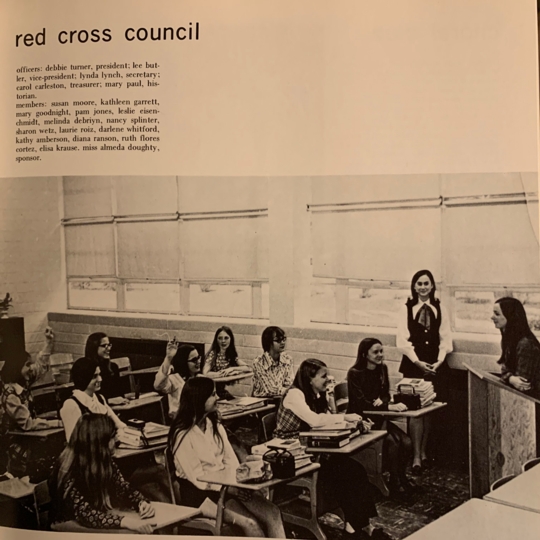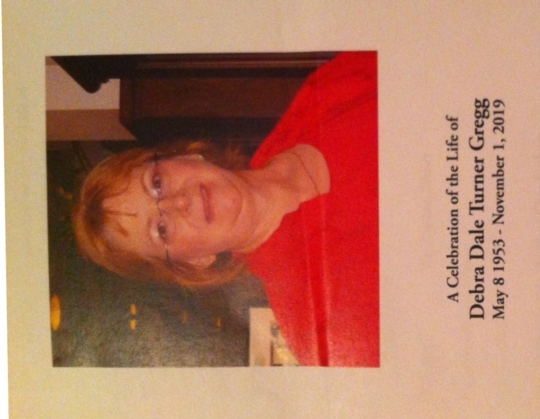 ---
http://porterloring.tributes.com/obituary/photos/Debra-Dale-Turner-Gregg-107719685