Alamo Heights High School
Class of 1971
In Memoriam
Quinn Williams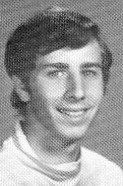 David Quinn Williams
May 21, 1953 ~ June 24, 1994
Graduated UT Austin, BFA in Business, Finance
Degree in Gemology
Licensed Realtor, Commercial Real Estate Appraiser
Gravesite at Sunset Memorial Park
Obitiuary not found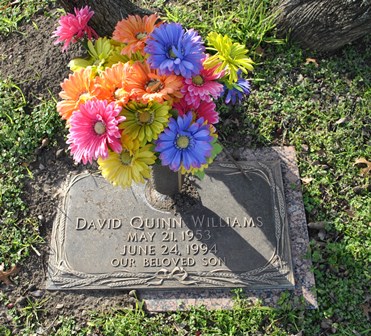 Quinn started as a real estate appraiser for Bank of America in LA & was transferred to San Francisco as a real estate appraiser for the bank. While living in LA he got a Gemology degree because of his fascination with precious stones and loved to buy & trade them. Once he left the Bank, he started his own real estate appraisal agency after moving to Palm Springs. He purchased high end houses which he remodeled & resold as a hobby. Quinn died on June 24, 1994 his parents anniversary. ~ Rusty
A Note to Ilse from Quinn's sister, Peggy Harvey in 2001
"BA from UT Austin. Gemology Degree in Los Angeles where he went to wrok for Bank of America doing jewelry appraisals. He then transferred to San Francisco where he appraised commercial real estate for the bank. he opened his own real estate appraisal office in Palm Springs and did wrok for Del Webb's Sun City property.
Quinn loved to buy & remodel run down properties. He was always looking for his next "find." He loved to cruise, go to Las Vegas and Hawaii. He always had dogs around. He enjoyed hunting & fishing trips in Texas with his family. He loved being with his friends & having a good time.
Enclosed is information and a couple of pictures of my borther, Quinn. I don't know how you got my name and address but I am very happy to have this info included. My mother would very much like to have a copy of whatever you put out. Would you please send her a copy? Thank You" ~ Peggy Harvey
After graduation from high school, Quinn attended Boston University and the University of Texas at Austin. He received a bachelor's degree in Business with an emphasis in Finance from the University of Texas. After college, Quinn continued his education by becoming a real estate broker, a real estate appraiser and gemologist. At the time of his untimely death (just after his 41st birthday) Quinn was residing in Palm Springs, California where he was one of the top real estate appraisers in the State of California.
Friends remember Quinn with memories below.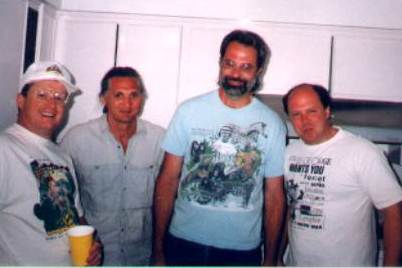 1993 - Rusty Brusenhan, John Peace, Graham Hall & Bubba Groos at Quinn William's house in Palm Springs Calif. in 1993, the year before Quinn died. It was opportunity for the 5 friends, who grew up in the same neighborhood, to get together one last time before Quinn's illness advanced.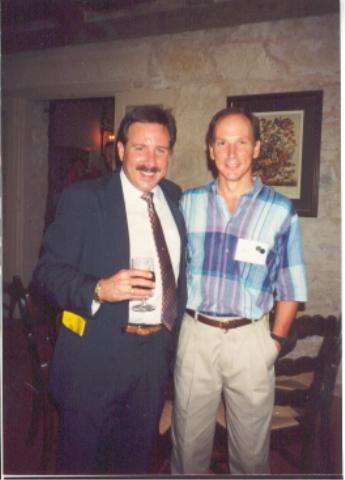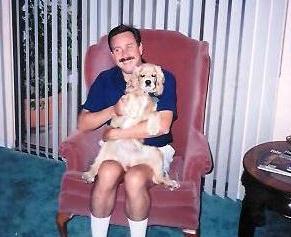 Left: Quinn with Kip in 1991 at our 20th Reunion ~ Right: Unknown when or where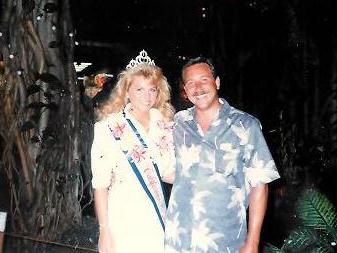 with Miss California at an event in Palm Springs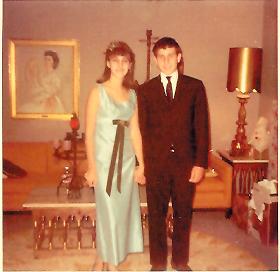 with Robin Early, 1968
One of my favorite stories about Quinn Williams involved himself, Graham Hall, Bubba Groos and Johnny Clark. The five of us grew up in the same neighborhood and spent a considerable amount of our free time catching lizards, rodents, snakes and other various creatures during the summer months. Once we entered high school and became mobile, we continued these activities, but our range was expanded to include Stinky Falls in New Braunfels. We often financed our trips (gas for the car and food) by selling snakes by the pound to the newly opened Snake Farm on I-35 outside New Braunfels. One day while we were at the Snake Farm selling our most recent cache of snakes, we noticed that the owners had acquired a rather large reticulated python (over 10 feet long and a foot or more wide). Quinn had his face up to the screen hissing at the python and scratching his fingers on the screen when the snake fully opened its mouth, hissed loudly and quickly struck the screen at the exact spot where Quinn had pressed his face. Quinn howled and immediately passed out falling to the ground. He was out like a light! I can still see the fear in his face before he passed out when that huge snake's mouth tried to take his head off. For years after that, we would laugh about the occasion and Quinn would only mutter, "You don't know how much that scared me." Quinn and I remained close friends until the day of his death and like most close friends I have many fond memories of our adventures together. Quinn loved life and told me shortly before his death that he did not regret anything that he had ever done except that he wished he hadn't been caught in some youthful indiscretions. While I miss my old friend, I take solace in the fact that I know he lived every single day of his life to the fullest. ~ Rusty Brusenhan August 1, 2001
Quinn and I were each other's first boyfriend and girlfriend in high school. I was thrilled when he asked me to Cotillion our freshman year. Of course, it was a "mommy date". (Actually, Mr. Williams drove us.) Then, when he could drive, we often doubled with Rusty (Brusenhan), Johnny (Clark), Bubba (Groos), or Graham (Hall), " The Terrell Hills Bad Boys." Quinn liked to jump off the roof of our house into our pool, when my parents weren't there, of course. He was always the jokester, the trickster, with a great laugh. Because Quinn lived on the edge of his emotions, he scared easily. Once we were watching "Future Shock" in the dark by ourselves at my sister's house. My Brother-in-law put his face in the window with a flashlight under his chin, making monster noises. Quinn came unglued. He started yelling, and ran for the door, after knocking over a lamp, and tripping on the rug. Ya gotta love him. Quinn had a big heart too, and thinking of him will always bring a smile to my face. ~ Robin Early, August 2001
I remember Quinn Williams as a pal and I spoke with him and several times when he lived in Palm Springs and saw him at Johnny Clark's wedding in Balboa Park, San Diego where he was dancing it up with the girls all night.
Anyway, Im driving out to Palm Springs manana so I thought of Quinn, Googled him and ended up on the memorial page of AHHS and wanted to add my memories of these special people. ~ Brad Miller January 2011
I remember Quinn, and I smile when I think of him. He was always in a great mood and had something clever and funny to say. He was happy and had a quick wit. I think that making people smile and laugh is a fabulous trait. August 5, 2001
Please send memories and photos to tschmid@austin.rr.com