Alamo Heights High School
Class of 1971
In Memoriam
Karen Nelson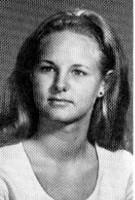 Karen Ann Nelson
1953 - 2017
Karen passed away on March 29, 2017, after a long battle with cancer.
On May 27, 2017, family & friends will gather at Lake Travis to celebrate Karen's life.
Karen is survived by her son, Johnathan Gillen. and her sister Lori Nelson Kasper.
Cause of death: cardiac arrest Obituary not found
---
We last saw Karen and guest at our 30th Class Reunion in 2001.
Karen's 2001 BIO:
I attended first grade at Cambridge and my teacher was Mrs. Holmgreen. I later had her daughter as a math teacher in junior high. In my spare time, when I'm not working on remodeling the kitchen, I enjoy reading, gardening and riding on the back of an extremely fast Yamaha V-Max. I just smile at the Harley boys when we pass them up. It is not a comfortable bike, however.
Two years ago we drove from Fort Worth to Lake Travis on it and vowed we would never make a trip like that again. We are now at the age when a touring bike would be nice!
There have been no earth-shattering accomplishments in my life (unless you call surviving two disastrous marriages a great accomplishment). My son, Johnathan, somehow managed to grow up despite my craziness but was definitely scarred by it.
Three years ago I ran away from my home in San Antonio and left him there to rent it. Isn't that a change of pace? Now, at the age of 25, he finally seems to be growing up and able to stand on his own two feet. He is my greatest accomplishment and what I am most proud of. - Karen Nelson, 2001
---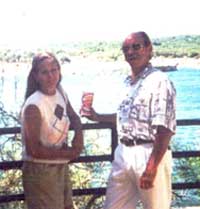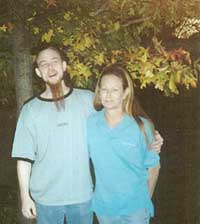 ---
High School activities: Chaps 1, 2; Office Education Association, Reporter 4,
Photo from senior yr Olmos, however Karen was not in this photo